"In omnibus requiem quaesivi, et nusquam inveni nisi in angulo cum libro,"
writes Umberto Eco at the end of his foreword to The Name of the Rose. The latin phrase attributed to Thomas à Kempis reads in English:
Everywhere I have searched for peace and nowhere found it, except in a corner with a book.
Which pretty much sounds like the story of my life.
I try to write short posts on all books I read (or sometimes just plan to read). The yield so far is collected here. In particular, I have written on the following books: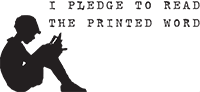 And what's even more important (even though it seems a bit funny writting it in a blog) … I pledge to read the printed word!
Florian
Image sources: Florian @ Trinity Hall Old Library, Cambridge, UK